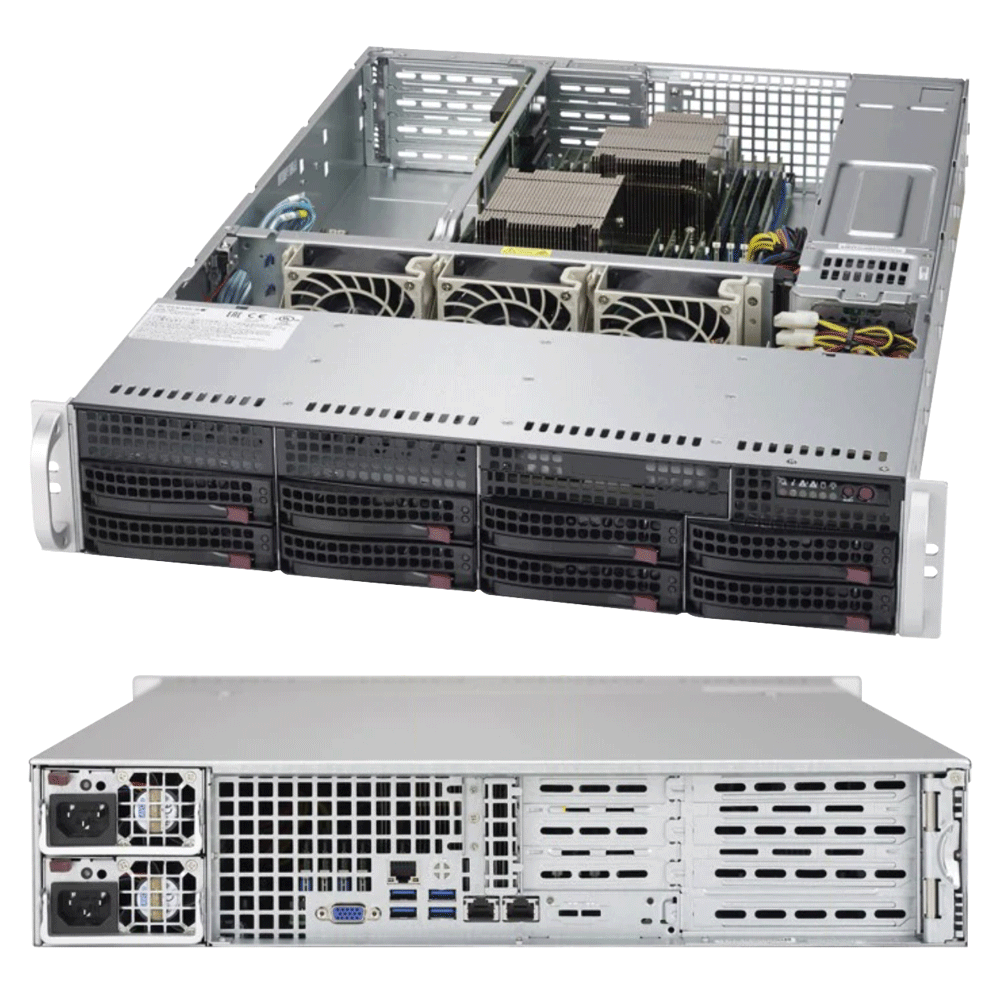 Image above may show a varied configuration of optional parts. Please refer to parts list for standard parts included.
Dual socket R3 (LGA 2011) supports
Intel® Xeon® processor E5-2600
v4†/ v3 family; QPI up to 9.6GT/s
Up to 2TB† ECC 3DS LRDIMM , up to DDR4- 2400†MHz ; 16x DIMM slots
8x 3.5″ Hot-swap SAS/SATA HDD bays for Customizable Storage
Riser card support up to:
4x PCI-E 3.0 x8 (2 FHFL, 2 FHHL)
2x PCI-E 3.0 (Low-profile) slots
Intel® i350 Dual port GbE LAN
Integrated IPMI 2.0 and KVM with Dedicated LAN
I/O ports: 2x SuperDOM, 1x VGA, 2x COM, TPM 1.2, 6x USB 3.0
(4 rear, 2 via header)
740W Redundant Power Supplies Platinum Level (94%+)
SuperServer WI-6028R-WTR (Black)
Intel® Xeon® processor E5-2600 v4†/ v3 family (up to 145W TDP) *
Dual Socket R3 (LGA 2011)
Up to 22 Cores† / Up to 55MB† Cache
† BIOS version 2.0 or above is required
* Please contact Supermicro Technical Support for additional information about frequency optimized CPUs and specialized system optimization.
16x 288-pin DDR4 DIMM slots
Up to 2TB† ECC 3DS LRDIMM/RDIMM
2400†/2133/1866/1600MHz ECC DDR4 SDRAM 72-bit
RDIMM: 64GB, 32GB, 16GB, 8GB, 4GB
LRDIMM: 64GB, 32GB
3DS LRDIMM: 128GB
Corrects single-bit errors
SATA3 (6Gbps); RAID 0, 1, 5, 10

Support for Intelligent Platform Management Interface v.2.0
IPMI 2.0 with virtual media over LAN and KVM-over-LAN support
ASPEED AST2400 BMC
Intel® i350 Dual Port Gigabit Ethernet Controller
Virtual Machine Device Queues reduce I/O overhead
Supports 1GBASE-T, RJ45 output
1x Realtek RTL8211E PHY (dedicated IPMI)
2x RJ45 Gigabit Ethernet LAN ports
1x RJ45 Dedicated IPMI LAN port
6x USB 3.0 ports (4 rear + 2 via header)

1x Fast UART 16550 port / 1 Header

2x SuperDOM (Disk on Module) ports
Net Weight: 35 lbs (15.9 kg)
Gross Weight: 62 lbs (28.1 kg)
Power On/Off button

System Reset button
UID button
Power status LED
HDD activity LED
2x Network activity LEDs
Universal Information (UID) LED
4x PCI-E 3.0 x8 slots (2x Full-height Full-length, 2x Full-height Half-length)
2x PCI-E 3.0 slots (Low-profile)
UIO AOC Compatibility Matrix
(Both CPUs need to be installed for full access to PCI-E slots and onboard controllers. See manual block diagram and AOC Support for details.)
8x 3.5″ Hot-swap SAS / SATA HDD trays (ready for PCI-E storage controller card)
1x 2U SAS backplane w/ Enclosure Management
(SAS support requires optional SAS controller)
Slim DVD-ROM drive (optional)
3x 80mm 7,000 RPM 4-pin PWM fans
Power Supply with Power Distributor

740W (1+1) Redundant high-efficiency power supply with PMBus

100-240 V, 50-60 Hz, 9-3.5 Amp

4 Amp @ +5V standby
61.7 Amp @ +12V
128Mb SPI Flash EEPROM with AMI BIOS

Plug and Play (PnP)
APM 1.2
PCI 2.2
ACPI 1.0 / 2.0 / 3.0 / 4.0
BIOS resuce hot keys
USB Keyboard support
SMBIOS 2.3
UEFI
Operating Environment / Compliance

Operating Temperature:
   10°C to 35°C (50°F to 95°F)
Non-operating Temperature:
   -40°C to 70°C (-40°F to 158°F)
Operating Relative Humidity:
   8% to 90% (non-condensing)
Non-operating Relative Humidity:
   5% to 95% (non-condensing)
Parts List - (Items Included)
MBD-WI-X10DRW-i
CSE-825TQ-R740WB
Super WI-X10DRW-i Motherboard
2U Chassis
8-port 2U TQ (W/ AMI 9072) backplane, support up to 8x 3.5-inch SAS/SATA HDD
CBL,SGPIO,2X4F TO 2X4F,P2.54,ROUND CABLE,40CM,28AWG

SATA,INT,ROUND,SET OF 4,ST-RA 56/45.5/35/23CM,26AWG
CAUTION LABEL FOR REDUNDANT PWR SYSTEMS
Add-on Card (AOC) Mylar Sheet for SC815
2U LHS WIO Riser card with four PCI-E x4 slots
2U RHS WIO Riser card with two PCI-E x8 slots
2U Passive CPU Heat Sink for X9, X10 Generation Systems Equipped w/ a Narrow ILM MB
2U Passive CPU Heat Sink for X9, X10 2U WIO/WIO+ Series Servers
1U740W Platinum Redundant Single Output
Rail set, quick/quick, default for 2,3U 17.2″W
3.5″ to 2.5″ Converter Tray
Black Hot-swap Gen-4 2.5″ to 3.5″ HDD tray
DVM-TEAC-DVD-SBT4
 DVM-TEAC-DVDRW-SBT4
DVM-PLDS-DVDRW-SBT5
TEAC SLIM DVD ROM SATA DRIVE, HF, RoHS/REACH 
TEAC SLIM DVD-RW SATA DRIVE, RoHS 
PHILIPS SLIM BLACK DVD-RW SATA DRIVE, HF, RoHS/REACH
Slim SATA DVD mounting kit
Internal 2.5″ HDD Tray
(COM slot) Included
Black USB dummy tray support 1x 2.5″ slim HDD
Internal 2.5″ HDD Tray
(DVD Slot)
Black DVD dummy tray support 1x 2.5″ slim HDD
USB/COM Port Tray
(DVD Slot)
Black 2x USB 3.0/COM port tray in slim DVD bay
SATA,INT,ROUND,ST-RA,70CM,30AWG
Y split , big 4 pin to two RA SATA power extension 15cm, 18AWG
BTR-TFM8G-LSICVM02 & BKT-BBU-BRACKET-05
BTR-TFM8G-LSICVM02 & MCP-240-00127-0N
CacheVault for Broadcom 3108; SuperCap mounting bracket for PCI-E location
CacheVault for Broadcom 3108; SuperCap mounting bracket for 2.5″ HDD location
SuperCap for
AOC-S2208L-H8IR
BTR-0024LH-LSI00297 & BKT-BBU-BRACKET-05
BTR-0024LH-LSI00297 & MCP-240-00127-0N
SuperCap TFM to be used w/ Supermicro AOC-S2208L-H8IR; SuperCap mounting bracket for PCI-E location
SuperCap TFM to be used w/ Supermicro AOC-S2208L-H8IR; SuperCap mounting bracket for 2.5″ HDD location
Storage Controller
Card(s) & Cables(s)
AOM-S3108M-H8 & 2x CBL-SAST-0556
AOC-S3108L-H8IR-16DD & 2x CBL-SAST-0556
AOC-S3008L-L8i & 2x CBL-SAST-0556
AOC-S3008L-L8e & 2x CBL-SAST-0556
AOC-S2308L-L8e & 2x CBL-SAST-0388L-02
AOC-S2308L-L8i & 2x CBL-SAST-0388L-02
AOC-S2208L-H8iR & 2x CBL-SAST-0388L-02
Supermicro Low Profile 12Gb/s Eight-Port SAS Internal Mezzanine RAID Adapter; RAID 0, 1, 5, 6, 10, 50, 60
Standard LP, 8 internal ports (12Gb/s) Gen-3, 16HDD; RAID 0, 1, 5, 6, 10, 50, 60
Standard LP, 8 internal ports (12Gb/s) Gen-3, 63HDD; RAID 0, 1, 10
Standard LP, 8 internal ports (12Gb/s) Gen-3, 122HDD; HBA
Standard LP, 8 internal ports (6Gb/s) Gen-3, 122HDD; HBA
Standard LP, 8 internal ports (6Gb/s) Gen-3, 63HDD; RAID 0, 1, 10
Standard LP, 8 internal ports (6Gb/s) Gen-3, 240HDD; RAID 0, 1, 5, 6, 10, 50, 60
AOC-SGP-i2

AOC-SGP-i4
AOC-SG-i2
AOC-SG-i4
AOC-STG-b4S
AOC-STGN-i2S
AOC-STG-i2T
AOC-STG-i2
Standard LP, 2x GbE RJ45, PCI-E x4, Intel® i350AM2

Standard LP, 4x GbE RJ45, PCI-E x4, Intel® i350
Standard LP, 2x GbE RJ45, PCI-E x4, Intel® 82575EB
Standard LP, 4x GbE RJ45, PCI-E x8, Intel® 82576EB
Standard LP, 4x 10GbE SFP+, PCI-E x8, Broadcom® BCM57840S
Standard LP, 2x 10GbE SFP+, PCI-E x8, Intel® 82599ES
Standard LP, 2x 10GbE RJ45, PCI-E x8, Intel® X540
Standard LP, 2x 10GbE CX4, PCI-E x8, Intel® 82598EB
Global Services & Support
3/2/1-year onsite 24x7x4 service
3/2/1-year onsite NBD service
OOB Management Package (per node license)

DataCenter Management Package (per node license)