Cloud and Virtualization needs |• Compute Intensive Application |• Database Processing and Storage |
High Availability Storage |• Mission-critical Applications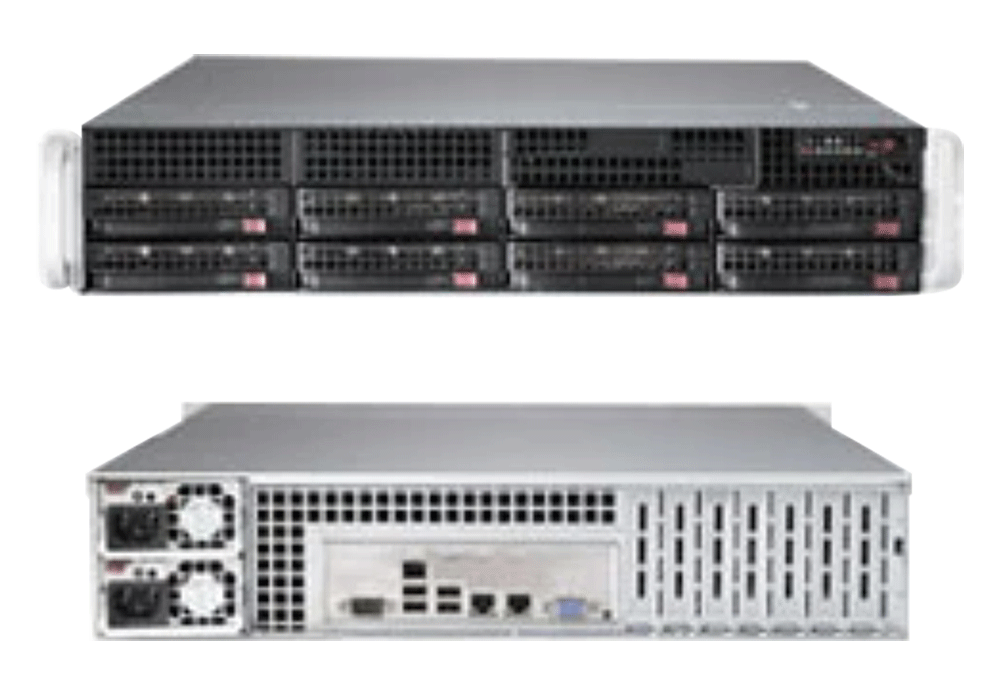 Image above may show a varied configuration of optional parts. Please refer to parts list for standard parts included.
Dual socket R3 (LGA 2011) supports
Intel® Xeon® processor E5-2600
v4†/ v3 family; QPI up to 9.6GT/s
Up to 2TB† ECC 3DS LRDIMM , up to DDR4- 2400†MHz ; 16x DIMM slots
3 PCI-E 3.0 x16, 3 PCI-E 3.0 x8 slots
Intel® i350 Dual port GbE LAN
Intel C612 controller for 8 SATA3 ports; RAID 0, 1, 5, 10
8x 3.5″ Hot-swap SATA3 HDD Bays
740W Redundant Power Supplies Platinum Level (94% efficiency)
SuperServer WI-6028R-TR (Black)
Intel® Xeon® processor E5-2600 v4†/ v3 family (up to 145W TDP) *
Dual Socket R3 (LGA 2011)
Up to 22 Cores† / Up to 55MB† Cache
† BIOS version 2.0 or above is required
* Please contact Supermicro Technical Support for additional information about frequency optimized CPUs and specialized system optimization.
16x 288-pin DDR4 DIMM slots
Up to 2TB† ECC 3DS LRDIMM, 512GB ECC RDIMM
2400†/2133/1866/1600MHz ECC DDR4 SDRAM 72-bit
RDIMM: 64GB, 32GB, 16GB, 8GB, 4GB
LRDIMM: 64GB, 32GB
3DS LRDIMM: 128GB
Corrects single-bit errors
SATA 3.0 (6Gbps) with RAID 0, 1, 5, 10

Support for Intelligent Platform Management Interface v.2.0
IPMI 2.0 with virtual media over LAN and KVM-over-LAN support
ASPEED AST2400 BMC
Intel® i350 Dual Port Gigabit Ethernet
Virtual Machine Device Queues reduce I/O overhead
Supports 10BASE-T, 100BASE-TX, and 1000BASE-T, RJ45 output
1x Realtek RTL8201N PHY (dedicated IPMI)
8x SATA3 (6Gbps) ports
2x SATA3 powered ports that support SATA DOM
2x RJ45 Gigabit Ethernet LAN ports
1x RJ45 Dedicated IPMI LAN port
Rear USB: 2x USB 3.0 + 2x USB 2.0
Front USB: 2x USB 2.0
USB Header: 2x 3.0, 2x 2.0, 1x Type A
2x Fast UART 16550 serial
2x COM Ports (1 rear, 1 header)
2x SuperDOM (Disk on Module) ports
SuperDoctor® 5
Watch Dog
NMI, SPM, SUM
IPMI 2.0
Intel Node Manager
ACPI / APM Power Management

Power-on mode for AC power recovery
26″ (H) x 11″ (W) x 34.5″ (D)
Net Weight: 35.5 lbs (16 kg)

Gross Weight: 69 lbs (31.2 kg)
Power On/Off button
System Reset button
UID button
Power status LED

HDD activity LED
2x Network activity LEDs
System information (overheat/UID) LED
3x PCI-E 3.0 x16 (Low-profile)
3x PCI-E 3.0 x8 (Low-profile)
8x 3.5″ Hot-swap SATA HDD trays
3x 80x80x38mm Counter-rotating PWM fans
Power Supply with Power Distributor

740W (1+1) Redundant high-efficiency power supply with PMBus
100-240 V, 50-60 Hz, 9-3.5 Amp

4 Amp @ +5V standby
61.7 Amp @ +12V
128Mb SPI Flash EEPROM with AMI® BIOS

Plug and Play (PnP)
APM 1.2
PCI 2.3
ACPI 1.0 / 2.0 / 3.0 / 4.0
USB Keyboard support
SMBIOS 2.7.1
UEFI 2.3.1
Operating Environment / Compliance

Operating Temperature:
   10°C to 35°C (50°F to 95°F)
Non-operating Temperature:
   -40°C to 70°C (-40°F to 158°F)
Operating Relative Humidity:
   8% to 90% (non-condensing)
Non-operating Relative Humidity:
   5% to 95% (non-condensing)
Parts List - (Items Included)
MBD-WI-X10DRi
CSE-825TQ-R740LPB
Super WI-X10DRi Motherboard
2U Chassis
8-port 2U TQ (W/ AMI 9072) backplane, support up to 8x 3.5-inch SAS/SATA HDD
SATA,INT,ROUND,ST-ST,29CM,30AWG

CBL,SGPIO,2X4F TO 2X4F,P2.54,ROUND CABLE,40CM,28AWG
SATA,INT,ROUND,ST-ST,21CM,30AWG
SATA,INT,ROUND,ST-ST,55CM,30AWG
CAUTION LABEL FOR REDUNDANT PWR SYSTEMS
SYS-WI-6028R-TR/SYS-6028R-TRT, QRG,HF,RoHS/REACH,PBF
STD I/O shield for X9 socket R server MB with Gasket.
2U Passive CPU Heat Sink for X9, X10 Generation Systems Equipped w/ a Narrow ILM MB
Black USB/COM port tray for SC825, 836
1U740W Platinum Redundant Single Output
FDD, DVD, 4 pin power adapter cable, 8cm. 24AWG

USB 2.0,INT,LCD,DVD,1X4/P2.54 TO 2X5/P2.54, 70CM, 28/24AWG

mini-SATA to USB adapter for slim DVD
Global Services & Support
3/2/1-year onsite 24x7x4 service

3/2/1-year onsite NBD service
OOB Management Package (per node license)
DataCenter Management Package (per node license)