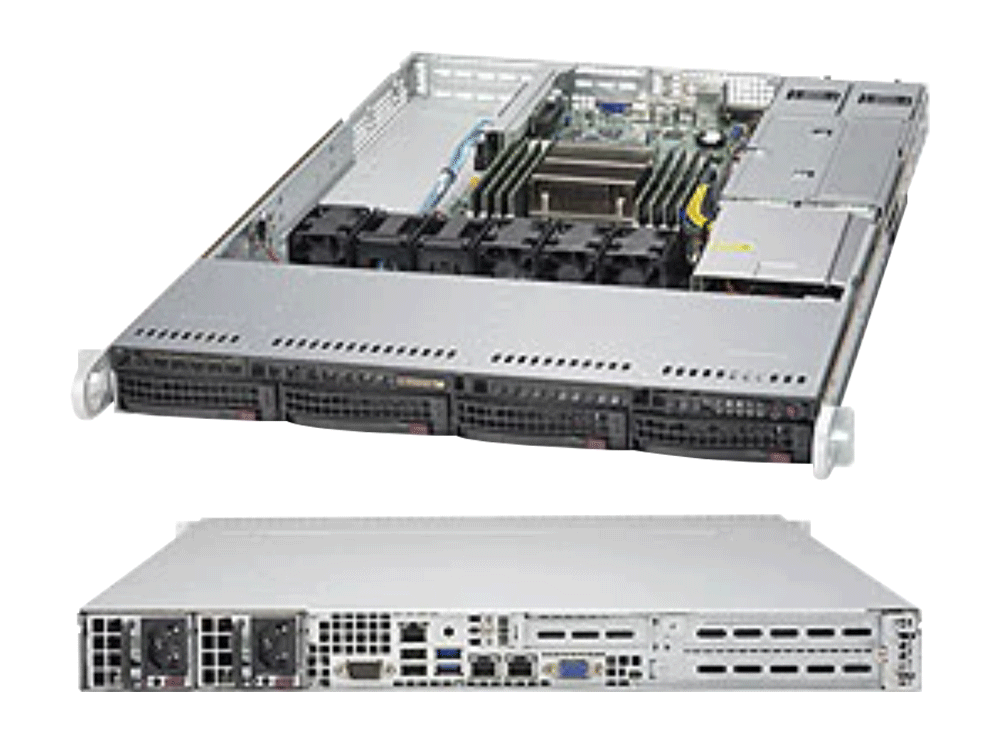 Image above may show a varied configuration of optional parts. Please refer to parts list for standard parts included.
Single socket R3 (LGA 2011) supports
Intel® Xeon® processor E5-2600
v4†/ v3 family; QPI up to 9.6GT/s
Intel® C612 chipset
4x 3.5″ Hot-swap SATA3 drive bays
1x Slim DVD-ROM drive bay
Up to 1TB† ECC 3DS LRDIMM , up to DDR4- 2400†MHz ; 8x DIMM slots
2x PCI-E 3.0 x16 FHFL, 1x PCI-E
3.0 x8 LPHL (3x AOC slots total)
Intel® i350-AM2 Dual port GbE LAN
Integrated IPMI 2.0 and KVM with Dedicated LAN
I/O ports: 1x VGA, 2x COM, 2x USB 3.0, 2x USB 2.0
500W Redundant Power Supplies
Platinum Level (94%+)
SuperServer WI-5018R-WR (Black)
Intel® Xeon® processor E5-2600 v4†/ v3, E5-1600 v4†/ v3 family (up to 145W TDP **)
Single Socket R3 (LGA 2011)
Up to 22 Cores† / Up to 55MB† Cache
† BIOS version 2.0 or above is required
** Motherboard supports this maximum TDP. Please verify your system can thermally support
8x 288-pin DDR4 DIMM slots
Up to 1TB ECC 3DS LRDIMM
Up to 512GB ECC LRDIMM
Up to 256GB ECC RDIMM
2400†/ 2133/1866/1600MHz ECC DDR4 SDRAM 72-bit, 288-pin (RDIMM / LRDIMM) / 284-pin gold-plated DIMMs
3DS LRDIMM: 128GB
LRDIMM: 64GB, 32GB
RDIMM: 32GB, 16GB, 8GB, 4GB
Corrects single-bit errors
Detects double-bit errors (using ECC memory)
SATA3 (6Gbps) via C612 controller
RAID 0, 1, 5, 10 support
Support for Intelligent Platform Management Interface v.2.0
IPMI 2.0 with virtual media over LAN and KVM-over-LAN support
ASPEED AST2400 BMC
Intel® i350-AM2 Dual Port Gigabit Ethernet
Virtual Machine Device Queues reduce I/O overhead
Supports 10BASE-T, 100BASE-TX, and 1000BASE-T, RJ45 output
2x RJ45 Gigabit Ethernet LAN ports
1x RJ45 Dedicated IPMI LAN port
2x USB 3.0 ports (2 rear)
2x USB 2.0 ports (2 rear)
1x Fast UART 16550 serial port
1x internal header
2x SuperDOM (Disk on Module) ports
Monitors for CPU Cores, +3.3V, +5V, +12V, +5V Standby, VBAT, HT, Memory, Chipset Voltages.

Total of 6 fan headers supporting up to 6 fans
6 fans with tachometer status monitoring
Status monitor for speed control
Status monitor for on/off control
Low noise fan speed control
Pulse Width Modulated (PWM) fan connectors
Monitoring for CPU and chassis environment

CPU thermal trip support
I2C temperature sensing logic
Thermal Monitor 2 (TM2) support
PECI
System Information LED
Suspend static indicator LED
UID/Remote UID
Chassis intrusion detection

Chassis intrusion header
RoHS, Halogen Free
Net Weight: 23.5 lbs (10.7 kg)
Gross Weight: 36 lbs (16.3 kg)
Power On/Off button
System Reset button
Power LED

Hard drive activity LED
2x Network activity LEDs
System Information LED
Total of 3 Add-on card slots:
2x PCI-E 3.0 x16 (FH, FL) slots
1x PCI-E 3.0 x8 (LP, HL) slot
4x 3.5″ Hot-swap drive bays
1x slim DVD-ROM drive bay
SAS/SATA HDD Backplane
(SAS support requires optional SAS controller)
4x 40x28mm 4-pin PWM Cooling Fans
500W Redundant Power Supplies with PMBus

100-240Vac, 50-60Hz, 6.1-2.6A

Gold Finger Connector Mating with Molex 45984-4343

+5V: 25A
+3.3V: 12A
-12V: 0.6A
8MB SPI Flash EEPROM with AMI BIOS

DMI 2.3
PCI 2.3
ACPI 1.0 / 2.0
USB Keyboard support
SMBIOS 2.3
Operating Environment / Compliance

Operating Temperature:
   10°C to 35°C (50°F to 95°F)
Non-operating Temperature:
   -40°C to 70°C (-40°F to 158°F)
Operating Relative Humidity:
   8% to 90% (non-condensing)
Non-operating Relative Humidity:
   5% to 95% (non-condensing)
Parts List - (Items Included)
MBD-X10SRW-F
CSE-815TQ-R500WB
Super X10SRW-F Motherboard
1U Chassis
4-port 1U TQ backplane (W/ enclosure management), support up to 4x 3.5-inch SAS/SATA HDD
SATA,INT,ROUND,SET OF 4,ST-RA 70/59/48/38CM,26AWG

CBL,SGPIO,2X4F TO 2X4F,P2.54,ROUND CABLE,61.5CM,28AWG
CAUTION LABEL FOR REDUNDANT PWR SYSTEMS
WI-5018R-WR, QRG,HF,RoHS/REACH
1U LHS WIO Riser card with two PCI-E x16 slots
1U RHS WIO Riser card with one PCI-E x8 slot
1U Passive CPU Heat Sink for X9, X10 Systems Equipped w/ a Narrow ILM MB
500W 1U Redundant PWS W/ 54.5MM Wide
SC815/113/116 Intel DP X9, X8 PC air shroud, 12x13MB
3.5″ to 2.5″ Converter Tray
Black Hot-swap Gen-4 2.5″ to 3.5″ HDD tray
DVM-TEAC-DVD-SBT5
DVM-PLDS-DVDRW-SBT5
TEAC slim DVD-ROM SATA drive
PHILPS slim DVD-RW SATA drive
Slim SATA DVD mounting kit
Internal 2.5″ HDD Tray (FDD slot)
Black FDD dummy tray support 1x 2.5″ slim HDD
Internal 2.5″ HDD Tray (DVD slot)
Black DVD dummy tray support 1x 2.5″ slim HDD
55cm 30AWG SATA straight to straigh cable
Y split, big 4 pin to two RA SATA power estenstion 30cm
Hot-swap 2.5″ kit (FDD slot)
Single slim 2.5″ SAS3 (12Gb/s) hot swap in slim FDD form factor

Hot-swap 2.5″ kit (DVD slot)
Single slim 2.5″ SAS3 (12Gb/s) hot swap in slim DVD form factor

40x40x56mm 12K-11K RPM Counter-rotating Fan

Storage Controller card & cable
AOC-S3108L-H8iR
& 1x CBL-SAST-0556
AOC-S3108L-H8iR-16DD
& 1x CBL-SAST-0556
AOC-S3008L-L8i
& 1x CBL-SAST-0556
AOC-S3008L-L8e
& 1x CBL-SAST-0556
Standard LP, 8 Internal ports (12Gb/s) PCI-E 3.0 x8,
RAID controller, RAID 0, 1, 5, 6, 10, 50, 60
Standard LP, 8 Internal ports (12Gb/s) PCI-E 3.0 x8,
16HDD RAID controller, RAID 0, 1, 5, 6, 10, 50, 60
Standard LP, 8 internal ports (12Gb/s) PCI-E 3.0 x8,
63HDD, RAID 0, 1, 10
Standard LP, 8 internal ports (12Gb/s) PCI-E 3.0 x8,
122HDD HBA
BTR-CV3108-1U1


BTR-TFM8G-LSICVM02 & BKT-BBU-BRACKET-05
CacheVault for Broadcom 3108 with SuperCap mounting in 1Y 40×56 fan tray
CacheVault for Broadcom 3108 with SuperCap mounting bracket for PCI-E location
AOC-SGP-i2
AOC-SGP-i4
AOC-STGN-i2S
AOC-STGF-i2S
AOC-STG-B4S
AOC-STGS-i2T
AOC-S25G-b2S
AOC-S25G-m2S
Standard LP, 2x GbE RJ45, PCI-E x4, Intel i350-AM2
Standard LP, 4x GbE RJ45, PCI-E x4, Intel i350
Standard Lp, 2x 10GbE SFP+, PCI-E x8, Intel 82599ES
Standard Lp, 2x 10GbE SFP+, PCI-E x8, Intel X710-BM2
Standard Lp, 4x 10GbE SFP+, PCI-E x8, Broadcom BCM57840S
Standard Lp, 2x 10GbE RJ45, PCI-E x8, Intel X550-AT2
Standard LP, 2x 25GbE SFP28, PCI-E x8, Broadcom BCM57414
Standard LP, 2x 25GbE SFP28, PCI-E x8, Mellanox CX-4 LX
CSE-PTFB-813LB
CSE-PTFB-813-02B
Black front bezels
Black Front Bezel w/ Round Venting Holes
AOM-TPM-9665V
AOM-TPM-9655V
TPM 2.0, vertical form factor
TPM 1.2, vertical form factor
Global Services & Support
3/2/1-year onsite 24x7x4 service
3/2/1-year onsite NBD service
OOB Management Package (per node license)

DataCenter Management Package (per node license)