Data Center Optimized | Short Depth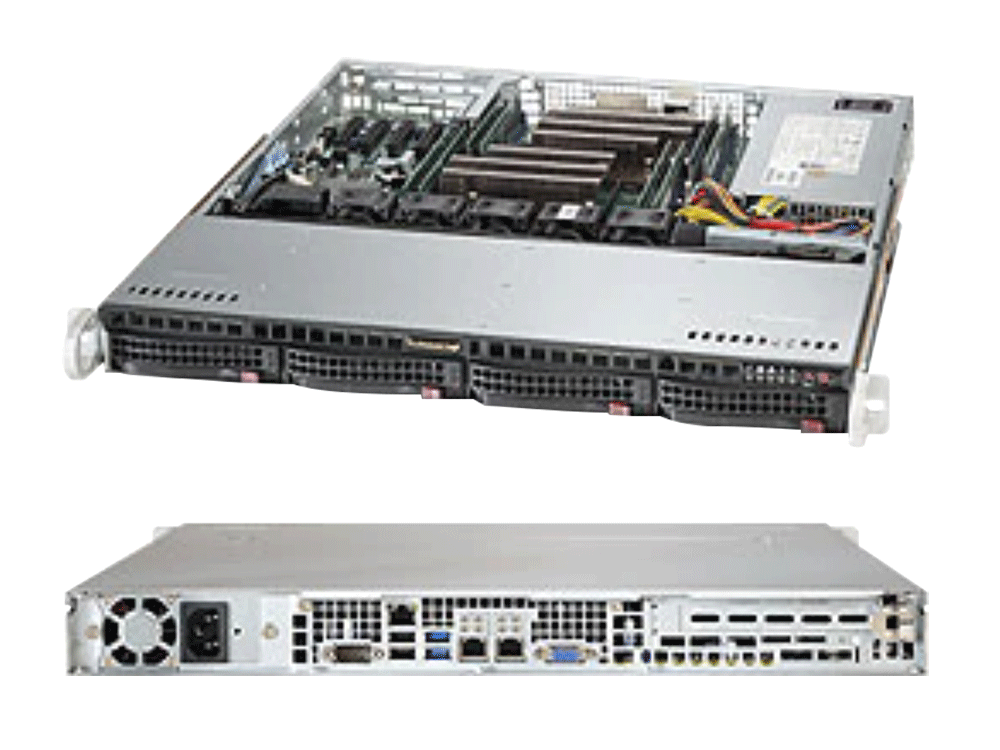 Image above may show a varied configuration of optional parts. Please refer to parts list for standard parts included.

Dual socket R3 (LGA 2011) supports
Intel® Xeon® processor E5-2600
v4†/ v3 family; QPI up to 9.6GT/s
Up to 1TB† ECC 3DS LRDIMM , up to DDR4- 2400†MHz ; 8x DIMM slots
1x PCI-E 3.0 x8 (FHHL) slot
4x 3.5″ Hot-swap SATA3 Drive Bays
Intel® i210 Dual-port 1GbE LAN
I/O ports: 1x VGA, 1x COM, 2x USB 3.0, 2x USB 2.0
440W/480W High-efficiency Power Supply, Platinum Level Certified
2x SuperDOM (Disk on Module) ports 
IPMI 2.0 + KVM with Dedicated LAN
* Note: SYS-WI-6018R-MT-BULK
   Available as Cost Optimized, Bulk Packing – 10 systems in one carton

SuperServer WI-6018R-MT (Black)
Intel® Xeon® processor E5-2600 v4†/ v3 family (up to 135W TDP) *
Dual Socket R3 (LGA 2011)
Up to 22 Cores† / Up to 55MB† Cache
† BIOS version 2.0 or above is required
* Please contact Supermicro Technical Support for additional information about frequency optimized CPUs and specialized system optimization.
8x 288-pin DDR4 DIMM slots
Up to 1TB† ECC 3DS LRDIMM, 512GB ECC RDIMM
2400†/2133/1866/1600MHz ECC DDR4 SDRAM 72-bit
RDIMM: 64GB, 32GB, 16GB, 8GB, 4GB
LRDIMM: 64GB, 32GB
3DS LRDIMM: 128GB
Corrects single-bit errors
SATA3 (6Gbps); RAID 0, 1, 5, 10

Support for Intelligent Platform Management Interface v.2.0
IPMI 2.0 with virtual media over LAN and KVM-over-LAN support
ASPEED AST2400 BMC
Intel® i210 Gigabit Ethernet controller
Supports 10BASE-T, 100BASE-TX, and 1000BASE-T, RJ45 output
1x Realtek RTL8211E PHY (dedicated IPMI)
4x SATA3 (6Gbps) ports
I-SATA 4 & I-SATA 5 support SATA DOM
2x RJ45 Gigabit Ethernet LAN ports
1x RJ45 Dedicated IPMI LAN port
4x USB 3.0 ports (2 rear, 2 headers)
5x USB 2.0 ports (2 rear, 2 headers, 1 Type A)
2x COM ports (1 rear, 1 header)

2x SuperDOM (Disk on Module) ports
IPMI 2.0

Intel® Node Manager
SuperDoctor® 5
SSM
SPM
SUM
Watch Dog
ACPI Power Management

Power-on mode for AC power recovery
23.4″ (W) x 8.5″ (H) x 29.7″ (L)

Power On/Off button

System Reset button
Power status LED

HDD activity LED
2x Network activity LEDs
Universal Information (UID) LED
1x PCI-E 3.0 x8 (FHHL) slot

4x 3.5″ Hot-swap SATA3 Drive Bays
1x slim DVD-ROM drive bay
4x 4cm fans with optimal fan speed control
440W/480W High-Efficiency Power Supply w/PMBus 1.2, I2C, and PFC

100-140V, 50-60Hz, 5.5-4A
180-240V, 50-60Hz, 3.5-2.5A
+3.3V: 15A
+5V: 18A
+5V standby: 3A
+12V: 35.8A at 100-140Vac
39.1A at 180-240Vac
128Mb SPI Flash EEPROM with AMI BIOS

Plug and Play (PnP)
APM 1.2
PCI 2.3
ACPI 3.0 / 4.0
USB Keyboard support
SMBIOS 2.7.1
UEFI 2.3.1
Operating Environment / Compliance

Operating Temperature:
   10°C to 35°C (50°F to 95°F)
Non-operating Temperature:
   -40°C to 70°C (-40°F to 158°F)
Operating Relative Humidity:
   8% to 90% (non-condensing)
Non-operating Relative Humidity:
   5% to 95% (non-condensing)
Parts List - (Items Included)
MBD-WI-X10DRL-i
CSE-813MFTQ-441CB
Super WI-X10DRL-i Motherboard
1U Chassis
4-port 1U TQ backplane (W/ enclosure management), support up to 4x 3.5-inch SAS/SATA HDD
SATA,INT,ROUND,SET OF 4,ST-RA 56/45.5/35/23CM,26AWG

CBL,SGPIO,2X4F TO 2X4F,P2.54,ROUND CABLE,40CM,28AWG
SC813M,SC113M, DP X9DRL-EF/ X9DRL-7F/ WI-X10DRL-i, X9/X10 mylar air shroud, 12
SYS-WI-6018R-MT/MTR, QRG,HF,RoHS/REACH
1U Passive Custom CPU Heat Sink for X9DRL, X10DRL Related Systems
440W/480W Platinum Power Supply
40x40x28 mm, 17.5K RPM, SC813MTS Middle Cooling Fan, RoHS/REACH,PBF
AOC-SGP-i2

AOC-SGP-i4
AOC-SG-i2
AOC-SG-i4
AOC-STG-b4S
AOC-STGN-i2S
AOC-STGN-i1S
AOC-STG-i2T
AOC-STG-i2
Standard LP, 2x GbE RJ45, PCI-E x4, Intel® i350AM2

Standard LP, 4x GbE RJ45, PCI-E x4, Intel® i350
Standard LP, 2x GbE RJ45, PCI-E x4, Intel® 82575EB
Standard LP, 4x GbE RJ45, PCI-E x4, Intel® 82576EB
Standard LP, 4x 10GbE SFP+, PCI-E x8, Broadcom® BCM57840S
Standard LP, 2x 10GbE SFP+, PCI-E x8, Intel® 82599ES
Standard LP, 1x 10GbE SFP+, PCI-E x8, Intel® 82599ES
Standard LP, 2x 10GbE RJ45, PCI-E x8, Intel® X540
Standard LP, 2x 10GbE CX4, PCI-E x8, Intel® 82598EB
DVM-PNSC-DVD-SBT3

DVM-TEAC-DVD-SBT3
DVM-PLDS-DVDRW-SBT4
DVM-TEAC-DVDRW-SBT2
BLACK PANASONIC SLIM DVD ROM SATA DRIVE

BLACK TEAC SLIM DVD ROM SATA DRIVE
PHILIPS SLIM BLACK DVD-RW SATA DRIVE
BLACK TEAC SLIM DVD-RW SATA DRIVE
Slim SATA DVD kit for SC213,219,813,815,818,819,825,828,829,836,842
Global Services & Support
3/2/1-year onsite 24x7x4 service
3/2/1-year onsite NBD service
OOB Management Package (per node license)

DataCenter Management Package (per node license)