Dual socket R (LGA 2011) supports Intel Xeon processor E5-2600 and E5-2600 v2 family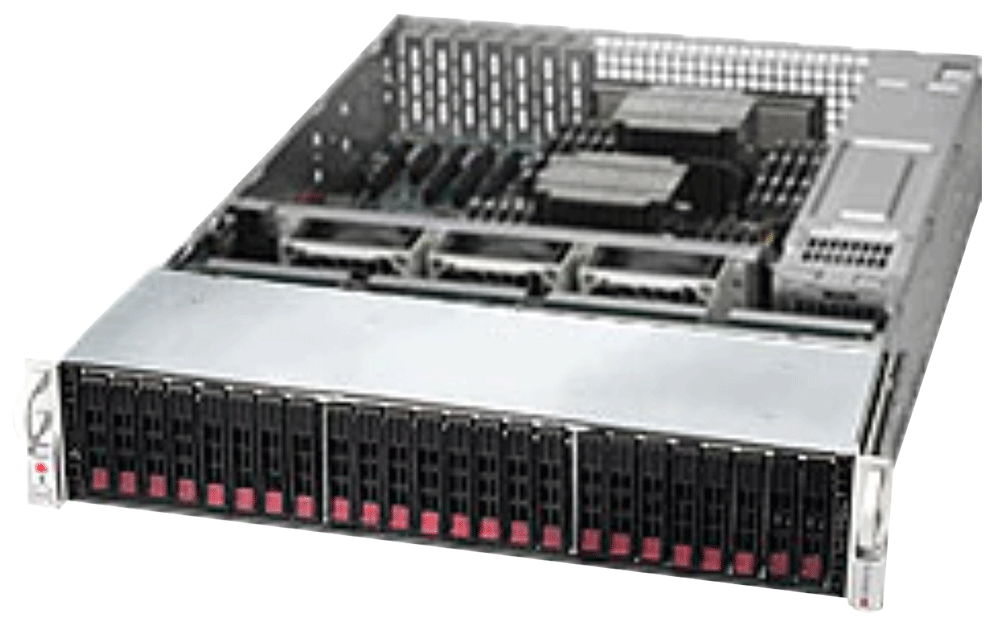 Rear Hot-Swap Drive Bay not Supported
Image above may show a varied configuration of optional parts. Please refer to parts list for standard parts included. 
Dual socket R (LGA 2011) supports
Intel® Xeon® processor E5-2600 and E5-2600 v2 family†

Up to 1.5TB ECC DDR3, up to 1866MHz; 24x DIMM slots

3x PCI-E 3.0 x16 and 1x PCI-E 3.0 x8 slots (Low-profile)

Intel® i350 GbE Controller; 4x ports

24x 2.5″ Hot-swap SAS2 (with Broadcom expander) / SATA3 HDD Bays

Hardware RAID controller and JBOD Expansion; RAID 0, 1, 5, 6, 10, 50, 60

Server remote management: IPMI 2.0 / KVM over LAN / Media over LAN

3x Heavy duty PWM fans

920W Redundant Power Supplies Platinum Level (94%)
Product SKUs – Discontinued SKU (EOL).
Please contact sales-rep for alternative options.
SuperServer WI-2027R-E1R24N (Black)
Dual Socket R (LGA 2011)
Intel® Xeon® processor E5-2600 and E5-2600 v2 family†   (up to 130W TDP)
† BIOS version 3.0 or above is required
24x 240-pin DDR3 DIMM slots
Up to 1.5TB DDR3 ECC LRDIMM
Up to 768GB DDR3 ECC Registered memory (RDIMM)
Up to 192GB DDR3 ECC Un-Buffered memory (UDIMM)
1866/1600/1333/1066/800MHz ECC DDR3 SDRAM 72-bit, 240-pin gold-plated DIMMs
32GB, 16GB, 8GB, 4GB, 2GB, 1GB
Corrects single-bit errors
Detects double-bit errors (using ECC memory)
SATA 2.0 3Gbps with RAID 0, 1, 5, 10
SATA 3.0 6Gbps with RAID 0, 1, 5, 10
Broadcom 2108 SAS2 RAID AOC (BBU optional)

Hardware RAID 0, 1, 5, 6, 10, 50, 60
Support for Intelligent Platform Management Interface v.2.0
IPMI 2.0 with virtual media over LAN and KVM-over-LAN support
Nuvoton WPCM450 BMC
Intel® i350 Gigabit Ethernet
Virtual Machine Device Queues reduce I/O overhead
Supports 10BASE-T, 100BASE-TX, and 1000BASE-T, RJ45 output
1x Realtek RTL8201N PHY (dedicated IPMI)
2x SATA 3.0 ports (6Gbps)
8x SATA 2.0 ports (3Gbps)
4x RJ45 Gigabit Ethernet LAN ports
1x RJ45 Dedicated IPMI LAN port
9x USB 2.0 ports total
(4 rear + 4 via header + 1 Type A)
1x Fast UART 16550 port / 1 Header
Power On/Off button
System Reset button
Power status LED
Hard drive activity LED
2x Network activity LEDs
System Overheat LED
Power fail LED
3x PCI-E 3.0 x16 slots (Low-profile)
1x PCI-E 3.0 x8 slot (Low-profile)
24x 2.5″ Hot-swap SAS / SATA HDD trays
No rear Hot-swap Drive Bay, SATA DOM Recommended
3x 8cm 9.5K RPM, 4-pin PWM fans
Power Supply with Power Distributor
920W high-efficiency (94%+) AC-DC Redundant power supplies with PMBus and I2C
100-240 V, 50-60 Hz, 11-4.5 Amp
4 Amp @ +5V standby
75 Amp @ +12V
128Mb SPI Flash EEPROM with AMI BIOS
Plug and Play (PnP)
APM 1.2
PCI 2.2
ACPI 1.0 / 2.0
USB Keyboard support
SMBIOS 2.3
UEFI
Operating Environment / Compliance
Operating Temperature:
10°C to 35°C (50°F to 95°F)
Non-operating Temperature:
-40°C to 70°C (-40°F to 158°F)
Operating Relative Humidity:
8% to 90% (non-condensing)
Non-operating Relative Humidity:
5% to 95% (non-condensing)
Parts List - (Items Included)
MBD-X9DRi-LN4F+
CSE-216E16-R920LPB
Super X9DRi-LN4F+ Motherboard
2U Chassis
66/61CM 2-PORT EXT IPASS TO INT IPASS LP
2U Passive CPU Heat Sink for X9, X10 Generation Systems Equipped w/ a Square ILM MB
Black Gen 3rd hot-swap 2.5″ HDD tray
2108 based SAS/SATA RAID- 8 internal ports/Low profile-PCI-E
MCP-220-82611-0N
CBL-0473L
CBL-0289L
Dual 2.5″ fixed HDD tray
HDD SATA Cable
HDD Power Cable
BBU (Battery Backup Unit)
Battery Backup for SAS 2108 (can be direct attached to card or connect by extension cable use BTR-0018L-Kit)