WI-2027B-DE2R24L (Complete System Only)
2U Mission critical storage server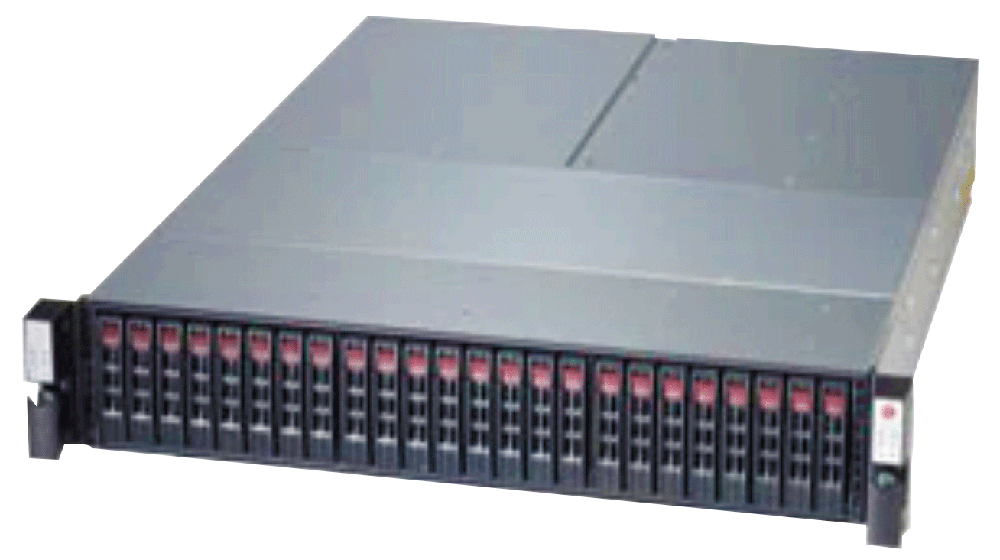 Complete System Only:
To maintain quality and integrity, this product is sold only as a completely-assembled system (including 4 CPUs, 4 DIMMs, 1 HDD).
Two hot-pluggable systems (nodes) in a 2U form factor.
Each node supports the following:
Dual socket B2 (LGA 1356) supports Intel® Xeon® processor E5-2400 v2
Up to 192GB DDR3 1600MHz ECC reg. DIMM;
6x DIMM slots (3 per CPU)
3x PCI-E 3.0 slots per node (can be used for host or storage expansion)
I/O ports: 2 GbE LAN (1 for IPMI 2.0 w/ Virtual Media/KVM over LAN), SAS 2.0 (6Gbps) x1 JBOD ports
Dedicated node to node connectivity featuring high performance PCI-E 3.0 x8 and IPMI for robust node fail-over support
24x Hot-swap 2.5″ SAS2 HDD bays Internal 2x SAS/SATA ports for OS load on SLC SATA DOM
920W Redundant Power Supplies Platinum Level Certified
Product SKUs – Discontinued SKU (EOL).
Please contact sales-rep for alternative options.
SuperStorage WI-2027B-DE2R24L (Black)
Dual Socket B2 (LGA 1356)
Intel® Xeon® processor E5-2400 v2
Up to 95W TDP
6x 240-pin DIMM slots
Supports up to 192GB DDR3 ECC Registered memory
Memory Mirroring supported
1866/1600/1333/1066/800MHz ECC Registered / ECC or Non ECC Unbuffered DDR3 SDRAM 72-bit, 240-pin gold-plated DIMMs
NVDIMM support. (Not all vendor's NVDIMM are supported. Please contact your sales representative for details)
1GB, 2GB, 4GB , 8GB , 16GB , 32GB
Corrects single-bit errors
Detects double-bit errors (using ECC memory)
Supports Intel® x4 and x8 Single Device Data Correction (SDDC)
Broadcom 2308 SAS2 (6Gbps)
Scalability through cascading
6Gb SAS2/SATA2 HDD support
Inband SES-2 Enclosure Management
Support for Intelligent Platform Management Interface v.2.0
IPMI 2.0 with virtual media over LAN and KVM-over-LAN support
Nuvoton WPCM450 BMC
Intel® i350 Dual-Port Gigabit Ethernet Controller
Intel® I/OAT 3 support for fast, scaleable, and reliable networking
VMDq support for better performance of virtualization
PCI-E 3.0 x8 node to node/NTB connectivity
PLX Technology PEX8717; PLX ExpressNIC SDK available from PLX. NDA required
Expansion Slots (per Node)
3x PCI-E 3.0 x8 slots (on riser)
Input / Output (per Node)
1x JBOD expansion port per node
(mini-SAS HD)
2x USB rear ports (via KVM cable)
1x USB on-board (TypeA)
1x VGA Port (via KVM cable)
1x console port (via KVM cable); Board to Board serial port connection available for management
16MB SPI Flash EEPROM with AMI® BIOS
Plug and Play (PnP)
PCI 2.3
ACPI up to 5.0
USB Keyboard support
* SATA support requires interposer
Power On/Off button
System Reset button
Alarm Mute Switch
Power LED
Hard Drive Activity LED
2x Network Activity LED
System Overheat LED
Power Fail LED
shared between server nodes
SAS or enterprise SATA HDD only recommended
SATA drives require Broadcom interposer
SAS2 dual Expander Backplane, features:
• Scalability through cascading
• 6Gb SAS2/SATA2 HDD support
• Inband SES-2 Enclosure Management
• Redundancy dual ported SAS architecture
• Robust AirMax server node connections (SBB specification)
920W Redundant High-Efficiency Power Supplies w/ Power Distributor, PMBus 1.2, I2C, and PFC
100-240 V, 50-60 Hz, 11-4.5 Amp
+5V: 45A
+3.3V: 24A
-12V: 0.6A
Monitors for CPU Cores, +1.5V, +3.3V, +5V, +12V, +3.3V Standby, +5V Standby, VBAT, Memory, Voltages.
5+1-switching voltage regulator
Total of 10 fan headers supporting up to 10 fans
Monitoring for CPU and chassis environment
Thermal Control for 10x fan connectors
PECI
Operating Environment / Compliance

Operating Temperature:
10°to 35°C (50°to 95°F)
Non-operating Temperature:
-40°to 70°C (-40°to 158°F)
Operating Relative Humidity:
8% to 90% (non-condensing)
Non-operating Relative Humidity:
5 to 95% (non-condensing)
Parts List - (Items Included)
Super X9DBS-F-2U Motherboard
2U Chassis
(EOL)[NR] AOM-S2308-L8i-SB
24-port 2U SBB SBB 6Gbps backplane, support up to 24x 2.5-inch SAS/SATA HDD
US POWER CORD 16AWG, PB FREE
11.5CM KVM/SUVI 36PIN TO 9PIN/15PIN/2USB
PWCD,US,NEMA5-15P TO IEC60320 C13,6FT,16AWG,RoHS/REACH
SC927 PDB Input +12V and 5Vsb and output with additional 5V
920W 1U Redundant PWS W/ Quiet Mode
1U PASSIVE CPU HS FOR INTEL LGA1366 (HTP)
2U+ PASSIVE CPU HS FOR INTEL LGA1366 X8 MB
40×56, 4 PIn PWM Fan Assembly for SC513F, 515, 823M
Support 2.5?SATA/SAS/SSD HDD tray with Broadcom converter bkt
SC927 2U motherboard tray supporting 3LP
L3-25111-00C LSISS9252 SAS-TO-SATA INTERPOSER, 2.5″/3.5″ HD
0.5m external Mini SAS HD to external IPASS. 30AWG,HF,RoHS/REACH,PBF
1m external Mini SAS HD to external IPASS. 28AWG,HF,RoHS/REACH,PBF
3m external Mini SAS HD to external IPASS. 28AWG,HF,RoHS/REACH,PBF